Shirazeh Houshiary

March 11th – May 9th 1992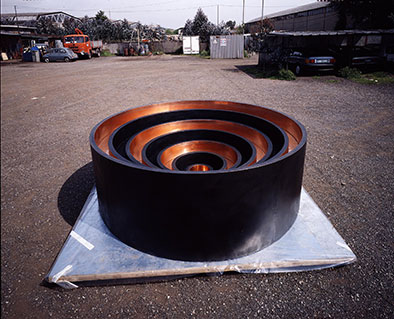 S. Houshiary,
Birth of light from Shadow
, 1992
It is the first Roman exhibition of the young Iranian artist Shirazeh Houshiary. His work is a study on 'light', seen as a phenomenon rather than matter, where the physicality of the sculpture and its metal becomes a metamorphosis. Light is a point of departure, the origin of being, as well as the point of arrival where the self returns to the Universal. The Persian mystical poet Rumi is an important part of the aesthetic and spiritual vision of Houshiary.
The show will include one sculpture, "Birth of light from darkness" (1991-92) and four works on paper. The sculpture, a circular form composed of concentric copper rings, both luminous and opaque, capture the light that reflects and circulates, and creates a rising and falling movement. The works on paper, entitled with Rumi's poems, remind us of chants in which the signs are repetitive and ritualistic, and the image is transformed into prayers.

Catalogue: Shirazeh Houshiary, Valentina Moncada Gallery, Rome 1992.