Maurizio Pellegrin
January 15th – February 28th 1992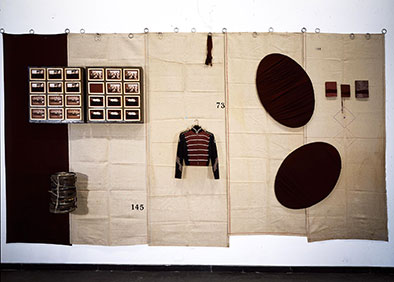 M. Pellegrin,
Considerazioni sul concetto di infinito
, 1990-91
It is the first solo exhibition of the Venetian artist Maurizio Pellegrin at the Valentina Moncada Gallery. It presents a selection of works on sentimental vibrations where fragments of reality, experiences of living into the world, noises and passions are suck into the silent space of the work, acquiring mystery and magic.

The work of Maurizio Pellegrin has its starting point the ready-made object: a new universe of signs emanates from poetic and metaphysical associations where the object is just a fragment of the work. The use of photography becomes a chance and a tool to determine the meaning.

It is syntax of print numbers hither and thither onto the layout of the work.
They sign a specific place and they become a quantitative and philosophical expression of the harmonic law ruling the work's meaning. Between the works on exhibition: Conseguenze poetiche di un atteggiamento (11 elements, 1991) and Delle vibrazioni sentimentali (34 elements, 1991), both compositions of diverse elements, realized with many materials like paper, pad tissue, objects, ink and photography.

Catalogue: Maurizio Pellegrin (texts by Collins & Milazzo, Ludovico Pratesi and Maurizio Pellegrin), Galleria Valentina Moncada, Roma 1992.