In other words
March 30th – April 28th 1994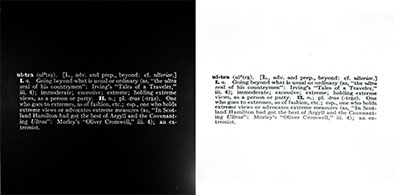 J. Kosuth,
Ultra
, 1967
Art and Language, Anne Marie Jugnet, On Kawara, Joseph Kosuth, Donatella Landi, Alex Landrum, Simon Linke, Frieda Munro, Chen Zhen

The group exhibition In other words charts a Conceptual Art course starting from Art and Language, a group of English artists of the 1960s, known as a fathers of Conceptual Art for their use of texts and words, passing through the etymological definitions of the American artist Joseph Kosuth. The exhibition presents also a work of the Japanese artist On Kawara who encloses pages of newspapers showing specific dates into perspex boxes, playing between the concept of ephemeral and perpetuity of art. Linke, Munro and Landrum - exponents of the young English generation- rework the advertisement of the art gallery, the definition of work of art used in auction sales and the classification of colors made by the main companies producing paint.
Two young artists from the artistic scene of Paris, Jugnet and Chen Zhen, work the first on the ephemeral vocabulary of art and the second on the transformation of a found object into the art dimension, defining the object exactly in the moment of the recovery.
Finally the Italian artist Donatella Landi works on images and on their definitions using a personal encyclopedic archive.

Catalogue: In Other Words, Roma 1993 (text by C. Christov – Bakargiev).