BRITISH VISION II
Notions of Space

May 14th – July 10th 1994

Curated by G. S. Wright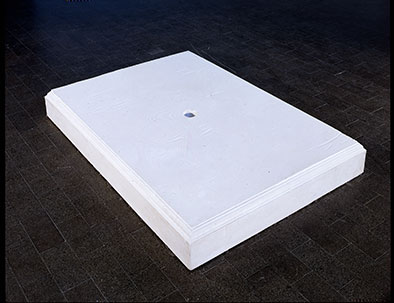 R. Whiteread,
Untitled (Ceiling)
, 1993
Alan Charlton, Alex Hartley, Mona Hatoum, Brad Lochore, Rachel Whiteread, Stephen Willats, Craig

The second group exhibition dedicated to British artist in occasion of "UK Today" exposition. The seven British artists assembled together for the first time in this show would not normally immediately command a thematic logic in relation to each other. However, despite formal discrepancies, upon closer reading a clear dialogue begins to develop between the various works on show. Each piece is considering the artist's relationship to space from a particular viewpoint, which ranges from the purely formal, existential and sociological to the rigorously conceptual.
Alan Charlton's lean, grey, minimalist painting (3 Part Painting, 1990) constitutes three panels which cut into the smooth even expanse of white of the gallery walls, while the bars of Mona Hatoum's sculpture (Incommunicando, 1993) situate the body within space and talk of pain and containment while referencing the bars of a prison. Grey shadowy lines blur their existence into Brad Lochore's paintings (Shadow No. 32, 1994), previously with specific allusions to the shadows of architectural details, but in this new work, taken from the shapes cast by the actual stretches on the back of the canvas. Alex Hartley's work (Untitled, 1994) takes photography as a departure point but then turns it vigorously into sculpture, articulating the lines of the modernist space with perspex and glass and initiating an investigation into perspective, into seeing and not seeing. Rachel Whiteread's plaster cast sculpture of a ceiling (Untitled – Ceiling, 1993) also forces a redefinition of perception where positive space becomes negatives space and cavities are read as protrusions. This too has been addressed by Craig Wood (Global, 1993) where hotels are drilled into the wall to create form out of negative space in a very apposite parallel to Whiteread's work. Wood's drawings document liquid containers in matrix form, signaling their everyday presence in our lives.
The four drawings of Stephen Willats (West Waste London Lands, 1981; Conceptual Tower Series No. 10, 1987; Conceptual Tower Series No. 23, 1989; Conceptual Tower Series No. 31, 1991) in this exhibition also objectify everyday containers and place them as architectural motifs against the backdrop of Modernist buildings, while exploring the random possibilities of intent inherent in our everyday existences.

Patronage: The British Council, Rome.

Catalogue: British Vision II, curated by G. S. Wright, Rome 1994.