Angela Grauerholz

November 11th – December 22nd 1998

Curated by Louise Déry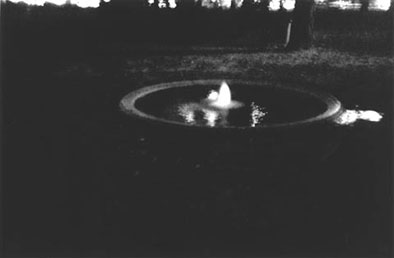 A. Grauerholz,
Fountain n° 1
, 1998
It is the first solo exhibition in Italy of the German artist Angela Grauerholz. It is organized in occasion of the event Orizzonti del Quebec, curated by Louise Déry. Four different selection of photographs from the Waterscapes One to Four I,II,III,IV series are exhibited: shot in the 1997, they represent water landscapes. Furthermore: three works of the 1994 showing natural subjects from the series Epic, Emanation and Elegie, and three photographs of her l998 last works from the series Aporia, always on water landscapes. All these are black and white shots.
The work of Angela Grauerholz consists on shooting images with a light focusing, representing landscapes or natural subjects. In the Angela Grauerholz photographs the subject looses importance and lets the space being ambivalent and mysterious, shocking the spectator. Her landscapes are abstractions able to recast themselves into the interior vision of who is watching them: they become this way symbol of an out-of-focus missing place.


Patronage: Ministèere de la Culture et des Communications du Quèbec and Ministère des Relations Internazionales du Quebec.

Catalogue: Angela Grauerholz, Musèe du Québec, 1998.