PLAY 04
November 5th-6th 2004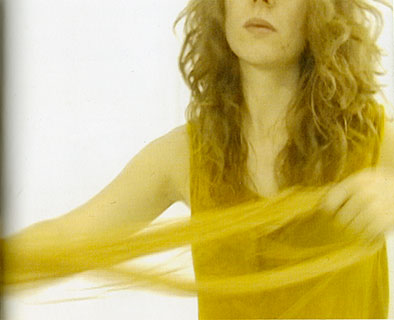 M. Pozzi,
Per filo e per segno
, 2004
Video Art from the Art Academies of Bologna, Carrara, L'Aquila, Milano, Napoli, Roma, Torino, Urbino, Venezia
The Festival Play 04 presents the best Video Art by the students of selected Italian Art Academies. The Festival is part of a project called "Work" specifically focused on the art of young emerging generation of students. Begun in May 2003 this is the Festival second edition. The purpose is to create a net of contacts involving directly critics, curators and artists into the selection of art works, in order to define and understand the direction of the youngest generations brand-new research.
The selected video artists are: Michael Fliri (Come out and play with me, 2003), Monika Stemmer (Vogelvariation or Beyond the birds, 2003), Simone Barresi (Ambientaminazione, 2004), Mauro Sampaolesi (Script, 2003), Ercole Coruzzi (Velocity, 2004), Enrico Moretti (Tender emotional clouds, 2004), Francesca Cogni (Percorsi, 2004), Santo Matteo (Untitled, 2004), Nikola Uzunovski (Snowfall, 2004), Mariana Ferratto (Esperaesperanza, 2004), Valentina Noferini (Egg, 2003), Sweety (Metro, 2004), Felipe Aguila (L'importanza di una piuma, 2004), Michela Pozzi (Per filo e per segno, 2004), Prisca Rinaldi (A lovely night, 2004), Marco Donnarumma (In-side, 2004). In the social-cultural panorama invaded by technology where television, cinema, photography and computer dominate contemporary vision, the use of video, now within everyone's means, became an instrument of image appropriation so immediate and rapid that it is increasingly fascinating for artists.
The festival is curated by Lelio Aiello, Cecilia Casorati, Donatella Landi and Luca Valerio while critics, curators and artists, who had already worked inside the Italian Art Academies, were involved in the selection of works. The young artists selected were among the most interesting ex-students who finished their study not more then two years before.

Patronage: Art Academy of Rome and the Municipality of Atri.
Catalogue: PLAY 04, texts by Lelio Aiello, Cecilia Casorati and Matteo Chini, printed in Città di Castello (PG), 2004.