Matthew Pillsbury

Screen Lives

February 8th – March 22nd 2006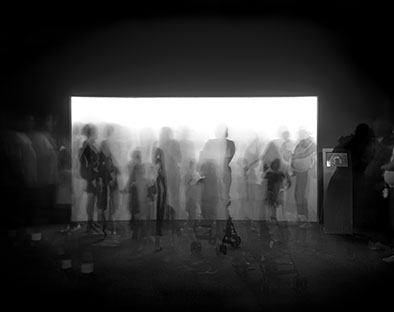 M. Pillsbury,
Jelly Fish, Coney Island Aquarium
, 2005
It is the first solo exhibition in Italy of the American photographer Matthew Pillsbury, opening at the Valentina Moncada Gallery after a renovation of the space. The exhibition presents a series of 25 black and white photos called Screen Lives, interiors set with very long shutter speed. Among the artist most favorite landscapes there are dark rooms where he portrays friends and member of his family in front of the television or of the computer and also museums interiors with spectators observing the works of art exhibited. The extraordinary long shutter speeds (more then one hour) used by Pillsbury compress the movement in the same unique frame. This way the portrayed subjects become evanescent shadows, ghosts of their own actions, while the surrounding details – rooms, objects, external environment or works of art displayed – remain perfectly in focus. In these shots the American photographer seems to ignore the human being and their ephemeral activities. With subtle irony and through allusions Pillsbury manages to evocate people isolation and derangement even if they are occupied with their everyday actions (watching TV or using computer) or observing works of art in a museum. They are large images but at the same time intimate, poetic and surreal descriptions.
A reference to the melancholic and loneliness of Edward Hopper is evident but the most important referential artists for Pillsbury were the photographers Hiroshi Sugimoto and Thomas Struth. However his style remains unique and its value is both documentary and poetic.