SITE SPECIFIC: The Landscape in Contemporary Photography
June 14th – July 19th 2006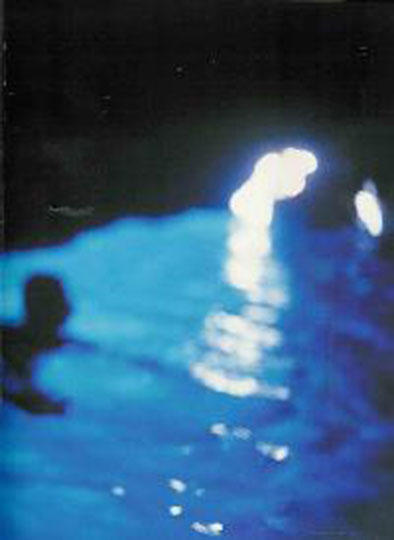 N. Goldin,
Gigi in the blue Grotto
, Capri, 1997
Elger Esser, Simryn Gill, Nan Goldin, Carlo Gavazzeni

The exhibition presents four photographers and their landscape shots: Elger Esser, Nan Goldin, Simryn Gill and Carlo Gavazzeni. In Elger Esser and Carlo Gavazzeni images landscape is considered in a classic sense, as a painting in the "Grand Tour d'Italie" where time seems to be suspended and ethernal. In Nan Goldin e Simryn Gill, on the contrary, the shooting speed catches an instant of the world in rapid evolution with a personal and social sign.

The Elger Esser's series, entitled "Cap d'Antifer – Étretat", presented in the exhibition with 10 examples, talks about a literary journey on the Maupassant and Flaubert tracks. Esser shot his series in the same places described by Flaubert through the Maupassant's eyes. Along with Elger Esser, on the same literary journay, the recent work of Carlo Gavazzeni who immortalized the most suggestive places in Rome with a traditional pictorial vision. Diametrically opposite is the perspective of the American photographer Nan Goldin, a celebrity in the international artistic world. The constant presence of her friends gives a personal and subjective touch to the places she shot. "Gigi in the blue grotto", one of the photos exhibited, was shot during a trip to Capri. There is no formal construction in Goldin's photos and the landscapes are always linked to her history, to her famous personal diary of images. To the immediate vision of Nan Goldin is sustained that of the Australian photographer Simryn Gill, whom the Tate Modern recently dedicated an important solo exhibition. In the present occasion it is presented a selection of six photos from the "Standing Still" series realized between 2000 and 2003 in the Asia South-East. In conclusion in Gill photos the subjects are all not finished projects of architectures, abandoned before their completion. The artist shot them while they began to be mixed with the natural environment, becoming modern ruins, symbols of economic uncertainty.