Alexander Rodchenko

Limited Edition Prints

June 4th – 22nd 2007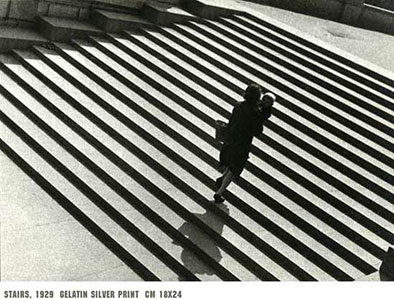 A. Rodchenko,
Stairs
, 1929
As a tribute to the great historic Russian photographer Alexander Rodchenko Valentina Moncada Gallery presents a double exhibition in association with the Shenker Culture Club of Rome. Eighty-three selected photos shot between 1924 and 1947, aim to reconsider Rodchenko's role as one of the Masters of International Photography and as one of the founders of Constructivism and Russian graphic.
Twenty-five Limited Edition Prints photos are exhibited at Valentina Moncada Gallery as the first Rodchenko's Portfolio ever printed from original plates for a limited edition of 50 copies. Rodchenko works are well known for their modern and experimental aesthetic. They are metaphysical visions and their purpose is to surprise: the angles in his portraits are unusual and the slants, often upward or downward oriented until flattering the figure, are voluntary off-center or oblique. There are no useless details in these slanted dynamic images, and they are focused on the objects position or on the objects move along the space. In the 1930s with the new political Communist prescriptions on artistic practice, Rodchenko concentrated on portraits of important characters of his contemporary culture, realized in his studio, like the poet friend Vladimir Majakovksj or the portraits of his relatives – it is famous that of the mother – and of his Constructivist colleagues (Osip and Lily Brik, Sergei Tretyakov, Alexander Shevchenko, exc.). Some of his popular themes are the documentary-images of Moscow's architectures of the 1910s and 1920s and his photojournalism through which he used to support the social politics of Stalin (military parades, sport events and choreographic movements, exc.)

At the Shenker Culture Club's space thirty photos from Portfolio Classic Images, published in 1994, are exhibited along with twenty-eight shots from the series Portraits, Rodchenko and his Circle, of 1998.