Polis

June 27th– July 13th 2007

Curated by Lydia Pribišová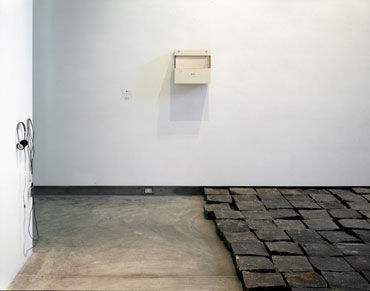 Polis
, exhibition view, 2007
Petra Feriancová, Kasia Krakowiak, Michal Moravčík

Polis is an ideological model, a prototype of metropolis, which precursor could be found in Rome with its numberless layers of different civilizations and cultures. It can be claimed that in Rome many cities constantly appeared and disappeared creating its various forms. Exhibition Polis presents a metaphorical view of archetypes of towns and places in them which might be or might not be real and which we might know intimately from our dreams and childhood. The core of the exhibition forms this archetypal town, which we would have known from our dreams for ages and where we could properly take our bearings according to our inner voice. The town, all our lives hidden in our memories, where we feel peculiar melancholy and inexplicable expectation. Memories of this town are stacked in our subconscious; they mix with one another and melt into ambiguous Déjà vu. Real towns (on the contrary to towns stored in our fantasy which we repeatedly visit in dreams) are created in the process of socio-political relations, which main feature involves communication and co-operation. These two are also the fundamentals of the exhibition.
​Kasia Krakowiak (1980), Michal Moravcik (1975) and Petra Feriancova (1977), three artists from the Central Europe were invited to create a mutual ideological as well as spatial model of imaginary polis, its typical characteristics and atmosphere in the historical centre of Rome using their own archetypal visions.
​Kasia Krakowiak will create in the gallery a site-specific installation Spinacz that was for the first time executed in Warsaw in 2006. It is an interactive installation, a floor formed by tiles that are in common use in the urban exterior. An installation will occupy whole floor of the gallery. The work, being in the direct contact with a spectator (walking), conjures up a feeling of instability, uncertainty, and confrontation with an unexpected physical experience.
​Michal Moravcik focuses in his work on problem of the power, political climate in post-socialist Central European territory. Two objects by Moravcík from a series Internal Affairs 2 displayed in the exhibition deal with phenomenon of mass manipulation that is alarming, especially in the megalopolises.
​Krakowiak`s space installation – physical, materially depicted general idea of a town - will be counterbalanced by a video projection by P. Feriancová To whom it may concern from a series Love letters. Feriancová evokes an imaginary love story, set in Rome. Communication with its imperfections, defects and limitations plays the most important role in the process of completion of the work's meaning.
​Also in this sense we can perceive Feriancová`s work as a significant complementary counterweight to the installations by Krakowiak and Moravcík. The two latter in contrast to Feriancová`s personal and intimate depiction of her city, create in their works an atmosphere of an anonymous archetypal Polis.


Exhibition is realized in collaboration with Slovak Embassy, Slovak Institute in Rome and Polish Institute in Rome.