Donato Amstutz
Public Privacy
February 14th – March 27th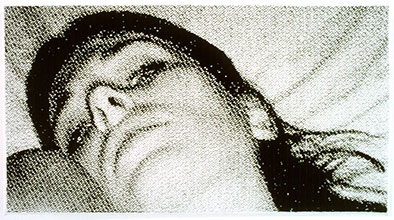 D. Amstutz,
Estasi (Ex-stese)
, 2007
It is the second solo exhibition at the Valentina Moncada Gallery of the Swiss artist Donato Amstutz after his debut in 2002 with the exhibition Homesick. The artist presents two new series of works all realized with his distinctive practice of art: the handmade embroidery. Starting from fragment of images on which the artist focuses his attention in the everyday life, he translates them in something different from their original meaning. In the Vanishing Woman series, Amstutz makes a selection of details of women faces cut from porn vintage magazines, enlarging the images many times and finally impressing them on white canvas. With an extraordinary patient embroidery work he reproduces every pixel of the enlarged image in each and every stitch, making ecstatic the portraits of evanescent women, a kind of ex-voto with a new unexpected religious value because he moved them from a public dimension into a more intimistic and private context.

The idea of embroidering on a mattress the image of a child floating in the water came to Amstutz after seeing a photo printed on a book for kids' education. The choice to set it vertically on the wall makes a simple object become a sculpture. Also some of his medicine boxes are exhibited: the eye drops Ciba Vision, the downer Dormicum and the antidepressant Tavor, all reproduced on scale with embroidery in every detail of graphics with the purpose of making unique as a work of art the image of industrial products that normally are produced to infinity.

Finally in the fine series Untitled/Entfesselt, Amstutz recycles different images of chained hands, using copper floss with his extraordinary ability, remembering symbols of slavery or even erotic games. Instead they are images free inspired by a poster of Harry Houdini's show, a famous circus performer who was able to release his chained hands.

Patronage: Pro Helvetia, Swiss Arts Council.