FESTIVAL OF ARTS

Via Margutta, art, place, unveiled mistery

April 19th –May 25th 2012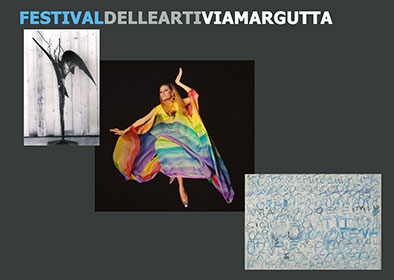 The exhibition is part of the Festival "Via Margutta, art, place, unveiled mistery"?? and opens the first retrospective dedicated to the fashion and advertising photographer Johnny Moncada, protagonist in the 1960s of an unforgettable season of italian fashion. Originally conceived as ideal collaboration between father and daughter, after opening his chests of photos remained closed for about fifty years, Valentina Moncada pays tribute to her father presenting an unseen selection of fifty photos, selected among the thousands of Johnny Moncada's Archive. After an accurate work of archive and restoration of the original negatives and ektacromes, some of the photo shoots that he realized between 1967 and 1968 for "Linea Italiana", the official italian fashion magazine, are printed for the first time in this occasion. Valentina Moncada selected especially those photos shot inside her father's studio along with amazing colorful backgrounds and environments often created in association with his friend artist Gastone Novelli.
Among the most famous models he portrayed: Veruschka, the most famous fashion icone of the 1960s, Jean Shrimpton, Isa Stoppi e Mirella Petteni, Denise Sarrault and his wife Joan Whelan. These photos are a special overlook between art and fashion in harmony with the style of that period hand in hand with the birth of the well known Made in Italy.

Johnny Moncada (Giovanni Luigi Moncada di Paternò, Rome 1928-2011) started his career as photographer in the 1950s, after the first attempts with a Rolleiflex and the early works for advertisement. Thanks to early contacts with Paris fashion world he realized his first photo shoot for the italian fashion stylist Fabiani and during the 1950s Moncada confirmed his competence, working with the most important French (Chanel, Dior, Balenciaga) and Italian fashion stylists (Simonetta, Fabiani, Roberto Capucci, Barocco, Sorelle Fontana, De Barentzen, Schubert, Balestra, ecc.). His studio in via Margutta 54 became a meeting point for the most important artists of the period, like Gastone Novelli, his friend and collectionist, Cy Twombly, Oliviero Toscani and many others. Johnny Moncada published his shots on the most prestigious fashion magazines of the time, "Linea Italiana", "Harper's Bazaar", "Vogue Italia", "Grazia", "Annabella", while he rejected a fixed contract with "Vogue US" to be not restricted. Moncada discovered and launched the beautiful Barbara Bach who became wife of Ringo Starr and Ali McGraw, protagonist of the famous movie "Love Story". At the same time he worked for adverstisement realizing many advertising posters, especially for Vespa, Agip, for the main italian air company Alitalia, and also for Buitoni, Plasmon, Venus. He finally opened his proper agency but, after reaching the top of his career, he decided to leave the world of advertising and photography, mainly because he could not stand market pressures.