Visione Britannica

23 Febbraio – 30 Marzo 1993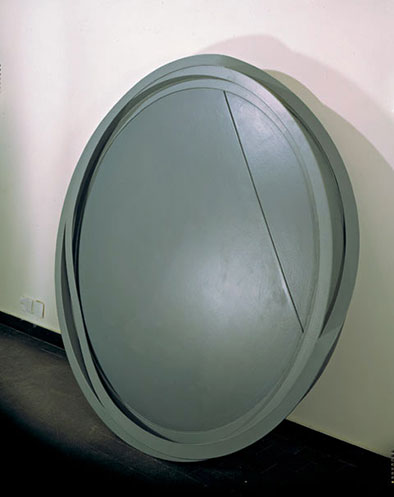 G. Davey,
1/3
, 1991
L'idea della mostra viene a Valentina Moncada dopo aver lavorato con molti artisti inglesi ed aver notato come a Roma molti collezionisti possedessero opere importanti pertinenti a questa "visione britannica". Viene tracciato dunque un percorso che univa Richard Long ai giovanissimi emergenti. La mostra si articola in due parti. Una sezione presenta una genesi della scultura inglese partendo da Richard Long (Carrara Circle, 1983) e Tony Cragg (Aeroplane, 1979), Julian Opie (Night Light, 1989) e Grenville Davey (1/3 Eye, 1991); Langlands & Bell (La Petite Roquette-Paris 1826/1974, 1993) Shirazeh Houshiary (The roof of seventh sky…, 1991) e Abigal Lane (Untitled, Ink Pad, 1993), Alex Landrum (Temptation, 1993) e Frieda Munro (Untitled, The death of the Virgin, 1992).
Una seconda sezione è dedicata alla grafica con la presentazione del London Portfolio, una cartella grafica stampata nel 1992 in 40 copie e 25 prove d'artista, in cui 11 artisti collaborano allo stesso progetto. Gli artisti sono: Dominic Denis, Damien Hirst, Langlands & Bell, Michael Landy, Nicholas May, Marc Quinn, Marcus Taylor, Gavin Turke, Rachel Whiteread, Craig Wood.

In collaborazione con lo Studio D'Arte Pino Casagrande, con il Patrocinio del British Council, Roma.