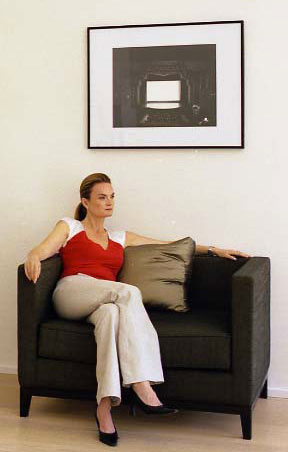 VALENTINA MONCADA
(Valentina Moncada di Paternò)
Valentina Moncada is an Italian art dealer specializing in contemporary art.

 She currently works as an art advisor, curator of contemporary art in public museums and editorial projects. She is also involved in archival projects, namely the
Johnny Moncada Archive
, the
Joan Whelan Archive
, the
Archive of the Studi Patrizi
1858-1946 and the reconstruction of the lost archive of
Associazione Artistica Internazionale
.
In 1990 she opened a gallery in via Margutta, Rome. Since its inception Galleria Valentina Moncada has specialized in contemporary art and established itself presenting exhibitions of artists from all over the world, now recognized as international masters.
 From 2010 to 2014 Valentina Moncada is also Chairman McKim Medal and from 2012 to 2014 Trustee at the American Academy in Rome.

In 2011 the exhibition Valentina Moncada_Contemporary Odyssey, during the Spoleto 2Mondi Festival, curated by Gianluca Marziani at the Palazzo Collicola Arti Visive, was a tribute to
 her twenty year long career.
Many art critics and journalists wrote about her activity, such as:
Achille Bonito Oliva who mentioned her gallery among the most important in Italy
(www.achillebonitoliva.com/novita/pagelle.htm)
; Carolyn Christov-Bakargiev, who wrote the texts into the Chen Zhen catalogue of exhibition and many articles published in the italian journal «Il Sole24 ore»; Frédéric Mitterrand, Director of The French Academy in Rome Villa Medici and French Minister of Culture, in occasion of the exhibition Theo by Richard Avedon; Jean Francois Yvars, Honorary Director Trustee of the Valencia Modern Art Museum (IVAM), for the exhibition Picasso in via Margutta 1917 – 2007. Among the numerous articles in «Artforum» magazine it's worth to mention Ida Panicelli writing about Donatella Landi's solo exhibition.


 Valentina Moncada curated exhibitions in public and state museums: the French Academy in Rome Villa Medici, the Capitolini Museums (Rome), The State Hermitage Museum (St. Petersburg), the MUAR - Shchusev State Museum of Architecture and Sotheby's in Moscow., Somerset House, London, MACRO, Rome, Museo Nazionale Etrusco di Villa Giulia, Rome.
As art historian she published several books with the following publishing houses: Cambridge University Press, Charta, Electa, Umberto Allemandi & C.
, Rizzoli International, Silvana Editoriale. 


Her exhibitions have been sponsored by prestigious companies and institutes like:
Pirelli, the American Academy in Rome, the Japanese Institute of Culture in Rome, the British Council, the Dutch Ministry of Foreign Affairs in the Hague, the Henry Moore Foundation (UK), Sandretto Re Rebaudengo Foundation for Art (Turin), the Musée du Québec, the Québec Ministry of Culture and Communications, the Québec Ministry of International Affairs, the Slovak Institute in Rome, Pro Helvetia, the Sovereign Military Order of Malta, the City of Rome, the French Academy in Rome Villa Medici, the italian Ministry of Cultural Heritage, Alta Roma.