SHOT

An American Vision

April 2nd – May 15th 1996

Curated by Cristiana Perrella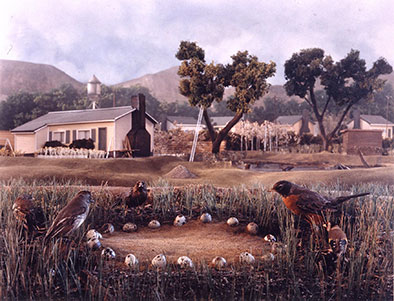 G. Crewdson,
Untitled
(robin with a ring of eggs), 1993
Larry Clark, Gregory Crewdson, William Eggleston, Nan Goldin, Jack Pierson, Robert Yarber

SHOT is the third edition of a project started in 1993 in which Valentina Moncada analyses different international situations. The first exhibition, "A British vision", was curated by Glenn Scott Wright while the second, entitled "An Italian Vision", was curated by Ludovico Pratesi.
SHOT offers a vision of "America life", from the deep South to the suburbs of the great metropolis, through the images of six of the most significant American artists working with photography. The raw vision of these artists is violent, almost blinding in their themes and colors, and able to return a strong sense of place and time to European viewers. The works re-examine the fundamental theme of the 'Landscape' that is deeply part of the American culture through cinema, literature and painting.
Moving from the open spaces, an ideal translation of the frontier myth, to the wilderness of the more and more constricting suburbs, this new American landscapes become also human and psychological space. It is a kind of drama that is interiorized by the 'on the road' themes.
Faces and places. From the formal sophistication of William Eggleston's color shots of the South to the ghostly un-reality of Yarber's casinos, filling stations and pools, until Gregory Crewdson's fictional suburbia, revealing a sense of anxiety just below the placid surface of normality.
And more: Larry Clark's fascination for youth, sex and violence, ruthless disintegration of the American dream; Nan Goldin's intense autobiographical narration, full of truth, beauty an pain. Finally, Jack Pierson's with his 'on the road' snap shots and his light touch can tell about emotions and desires.

Catalogue: Shot-An American Vision, Rome 1996 (organization T. Lombardi, V. Moncada and L. Williams; texts by C. Perrella and L. Beatrice).