COLOUR FIELDS

January 19th – February 25th 1998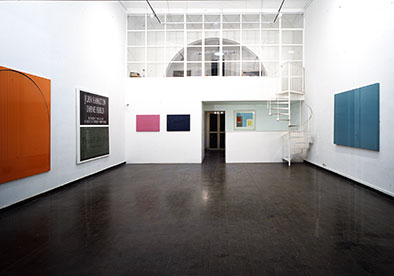 Colour Fields, exhibition view, 1998
Ian Davenport, Dominc Denis, Shirazeh Houshiary, Alex Landrum, Simon Linke

The group exhibition Colour Fields presents seven works of five young English artists. They exhibited before in other occasions at Valentina Moncada Gallery.
The work of Ian Davenport was created specifically for the show: it is a huge black arch on orange background. Davenport works on the ground, spilling paint directly from the can on the smooth board, Raised vertically the board makes the color slipping down until covering the surface partially designing a first arch. Then, repeating this process, between the superimposed veils, erasing each other, a thin line of a different color emerges.
Print layers of different intense colors remembering children drawings define the work of Dominic Denis on silk-screen.
In the Shirazeh Houshary's works the signs belong to Persian writing, repeated unsteady like in a ritual dance. Alex Landrum first empties and then gives new sense to the minimal monochrome throughout the sticking out production name of the color he used. The painting of Simon Linke becomes the advertising page of the magazine Artforum, announcing the faked exhibition of Juan Hamilton. Linke investigates the meaning of painting through the paradox of authenticity in the postmodern age when the semblance replaces the reality.


Patronage: The British Council, Rome.