Habitat

March 4th –April 17th 1998

Curated by Cristiana Perrella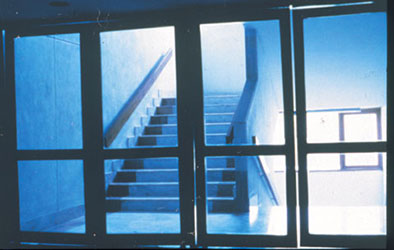 L. Lambri,
Untitled (Delayed Space)
, 1997
Massimo Bartolini, Carlo Benvenuto, Francesco Bernardi, Luisa Lambri, Mario Milizia, Luca Pancrazzi, Alessandra Tesi

The group exhibition Habitat presents seven Italian artists of the youngest generation. The huge and still growing anonymous metropolis, the metropolis of transportation and services, always remaining the same, is the natural habitat of great part of individuals living in the west world. The contemporary urban space is disturbed, contradictory, suspended between the desire of global identity and the need of "local" privacy. How to represent the space we belong to, our habitat, becomes one of the questions on which art of our times meditates.
Through different medium (photograph, painting, video, installation, sound) the artists in Habitat investigate on this question without finding simple answers but admitting multiple and conflicting solutions. Some of them consider the place completely uniform and in some ways less important (Bernardi, Lambri, Milizia, Pancrazzi); some others make an emotionally involved research on intimate and extremely typifying spaces (Bartolini, Benvenuto, Tesi).