TOKYO – GA

A Japanese Vision

March 22nd – May 16th 2000

Curated by Cristiana Perrella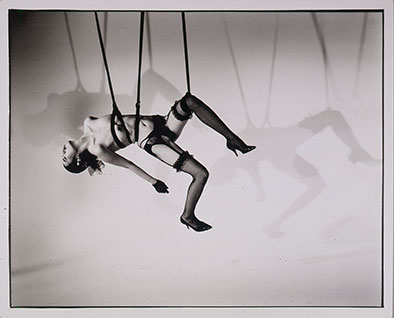 N. Araki,
Untitled
, 1996
Nobuyoshi Araki, Nan Goldin, Hiromix

Following the exhibitions "A British Vision", "An Italian Vision" and "Shot: An American Vision", "Tokyo-ga" is part of a project started in the 1993 by Valentina Moncada with the purpose of analyze many international situations. Tokyo-ga is the title of a Wim Wenders's movie of the 1986, a documentary on Japan, a clear and objective view on its images, habits, obsessions and changes. Starting from the movie's suggestion, the exhibition presents a moving image of Tokyo with three different perspectives, though the preference for the human landscape is the same. Tokyo-ga shows a comparison between two generations, two different ways of portraying, with immediate suggestion, the beauty, the contradiction, the chromatic hallucinations of Japan today. Here are black and white shots built on the basis of formal values of Araki, the immediate and emotionally intense photo-diary of the young Hiromix and the only apparently fast images called snapshot of Nan Goldin.
Nobuyoshy Araki, one of the most famous japanese photographers, shows three black and white shots of the 1997 representing three of his typical subjects: still life, city landscapes, women nudes. Nan Goldin, a renowned American artist, exhibits a photo from Tokyo Love, the book published with Araki in 1996, which gathers a series of images shot by the two artists in Tokyo between 1994 and 1996. Hiromix, a younger artist, presents 12 photos of different sizes – self-portraits, characters, portraits of friends – all shot with a camera for snapshots. His shots, exhibited in this occasion for the first time in Italy, are recognized in Japan as a young display of intense quality and chromatic sensibility.