Claudio Palmieri and Josè Maria Sicilia
Flowers
February 15th – March 9th 2001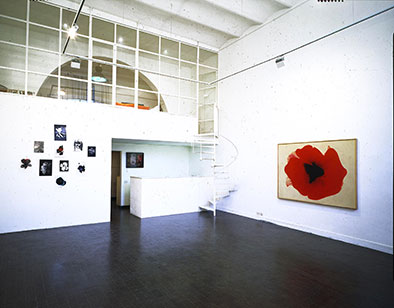 Claudio Palmieri e Josè Maria Sicilia. Fiori, exhibition view, 2001
The exhibition presents an Italian artist Claudio Palmieri compared with the Spanish Josè Maria Sicilia, both young painters working from 1985 in tune with their vision. Thy have in common the same warm vision of painting with Mediterranean color tones.

Claudio Palmieri presents three huge works in Plexiglas, a microcosm where the materials (enamel, resin, glaze, photographs) transform in flowers both as architectural vegetable structure and iconography, suspended inside the plate of light. The flower image, reworked and enlarged, is put on Plexiglas as suspended in the space. It presents a composition of little works on Plexiglas and reworked photos.

Josè Maria Sicilia exhibits a huge acrylic painting and a little one acrylic on paper. He spreads liquid wax on conventional canvas adding pigments of color powder. Blowing and carving with his own fingers, he lets the material slipping away creating images of giant flowers. This explosion of flame-red invites to a mystic contemplation of the image.