Garry Fabian Miller
Thoughts of a night sea
March 26th - April 30th 2003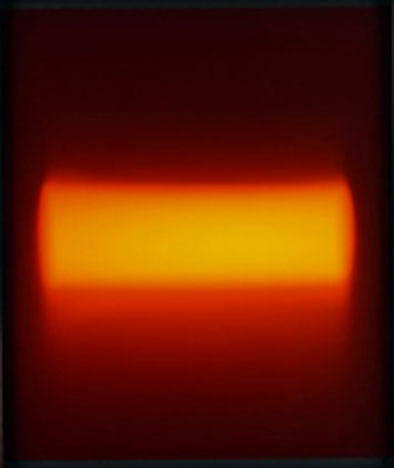 G. Fabian Miller,
Section of England: The sea horizon
, 1976/ 1977
It is the second solo exhibition of the artist at the Valentina Moncada Gallery. Eight photographs are presented, six from his very last series "Thoughts of a night sea", and two from the project called "Burning" realized for the Graves Art Gallery in Sheffield. In this project Miller picked up a painting of the artist Gwen John, trying to sink into his fantasy world. He realized glad images, which seem to release automatically light, like an interior heat. Some of his works remember the Mark Rothko's paintings but with something so deeply penetrating that it seems to burn.

"Thoughts of a night sea" signs his comeback to the physical and emotional territories of his well-known first series "Section of England: The Sea Horizon". The new shots are once again evocative of the horizon but the difference is that it is a real horizon, a union between sky and sea newborn into the artist's imagination and come to light in the dark room. They could remember the Turner's sea landscapes or the more recent James Turrell's bright landscapes.

Patronage: The British Council, Rome.