Abelardo Morell

When in Rome

April 11th –May 28th, 2008

Curated by Gianluca Marziani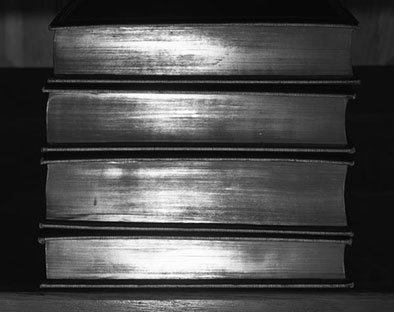 A. Morell,
Shiny Books
, 2001
It is the first solo exhibition in Rome of the Cuban artist Abelardo Morell. The photographer, already renown worldwide, is presented in Rome following two previous Italian exhibitions: in 2000 his first Italian solo exhibition was held in the Limonaia of Villa Strozzi in Florence and in 2004 he participated in the group exhibition Arts and Architecture 1900-2000 in the Palazzo Ducale in Genova.The exhibited works were composed of color and black & white shoots featuring two series: Camera Obscura and Book of Books. In the first series (Camera obscura), Morell returns to the origins of photography, modeling in his creations that magic process of image reproduction, which Gianbattista Della Porta described in the XVI Century as camera oscura. In the other series (Book of books) the artist creates huge images of deep photographic impact using books and their shapes and fantastic subject. Abelardo Morell style derives from the darkroom's primordial technique of reproduction and sometimes it becomes the main subject of his shots.

Morell's art is meta-photographic: the bedrooms are considered a kind of dark boxes on whom walls an overturn image of the external reality is shot in beautiful snap-shots of cities like Rome, Paris, Venice and Florence.

In the second work exhibited (Book of books) Morell uses books as materials rich of story. This way he could realize innovative iconographic shots. In front of the camera the book looses its universal value as instrument of knowledge in order to transform in other. With the same attention of a craftsman, Morell creates photo-collage where he focuses multiple perspectives and peculiarities of the books he uses in confront.

Patronage: America Academy in Rome.