Pascal Gautrand
When in Rome, do as Romans do.
February 2nd - 20th 2009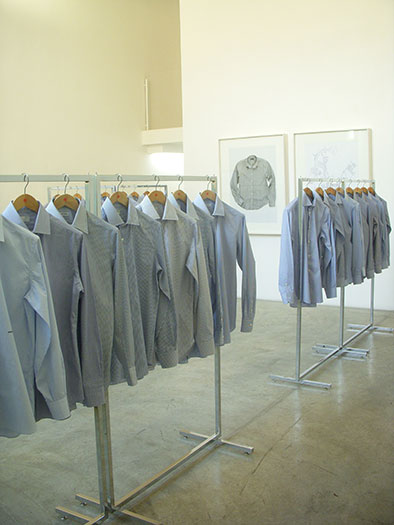 When in Rome,
do as Romans do
, exhibition view, 2009
"When in Rome, do as Romans do" is a project of Pascal Gautrand, a young French stylist involved during the last years in the production in series of unique pieces. The installation is composed by a set of shirts realized on the basis of a mass product (a Zara brand shirt) by 30 tailor's shops in Rome specialized in sewing tailored shirts and so all involved in the project. The result is a set of tailored shirts, very similar each other but at the same time unique, each one as individual product of a tailor's shop sartorial skills. This way it is valorized not only the product as final result but especially the idea of productive process as fundamental part of it. The exhibition presents also a video-installation presenting people statements on their personal stories about shirts. They are intimate experiences and deeply linked to diverse personalities making shirts unique.
The creative project during 10 years has developed a reflection on fashion system, highlighting the centrality of made-to-measure products in Italy and of industrial and handcrafted sources in the fashion world.
The title "When in Rome, do as Romans do" is a reference to the famous English quip and it wants to remark the meaning of the project: the need to take into account again cultures and local values that is, in this specific case, the handcraft and uniqueness of roman tailor's shops, in opposition to the globalization.

In association with AltaRoma and part of AltaRomAltaModa, the Rome fashion week, the project is supported by Villa Medici-French Academy.
Patronage: Municipality of Rome.