Nicholas Vreeland
Photos for Rato
October 5th – 15th 2009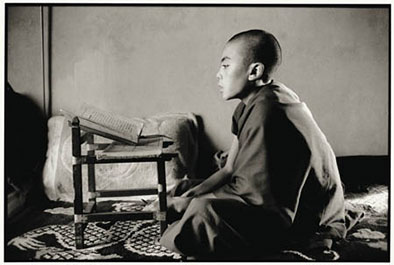 N. Vreeland,
Young rato monk memorizing
, 2009
The exhibition presents a selection of works by the photographer and Buddhist monk Nicholas Vreeland with the humanitarian intention to raise funds to rebuild the monastery and the monastic university of Rato Dratsang. "Photos for Rato" is also the name of the no-profit Foundation which organized this travel photographic exhibit in order to devolve all the proceeds to the Rato Dratsang rebuilding.
Grandson of the famous journalist Diana Vreeland – one of the most important fashion characters of all the times - Nicky Vreeland was pupil and assistant to some of the majour photographers ever existed, Irving Penn and Richard Avedon in the 1970s. After the classical studies in French and US, Vreeland soon oriented himself toward photograph, also thanks to his grandmother's direction when he was very young. Introduced at the Tibet Center of New York by John Avedon he followed the Khyungla Rimpoche courses. After years of studies, he retired in India becoming Buddhist monk in 1985 and gheshe (PhD in Buddhist Philosophy) in 1998. He currently lives between New York and Rato's monastery in the South of India, without renouncing to his activity as photographer.