VisioniVisions
The first decade of Valentina Moncada Gallery
Palermo, Micromuseum
July 24th – October 31st 2002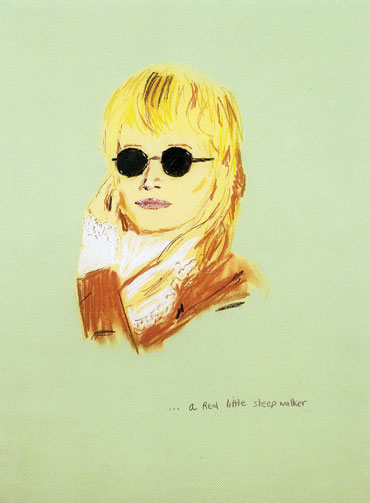 K. Kilimnik,
A Real Little Sleep Walker
, 1993
Petra Feriancovà, Zebedee Jones, Anne Marie Jugnet, Karen Kilimnik, Alex Landrum, Donatella Landi, Marco Samoré, Robert Yarber

The project originates from the collaboration between Valentina Moncada and Paolo Falcone, director of the Micromuseum in Palermo. It shows a selection of works by eight artists representing the first decade of exhibitions at the Valentina Moncada Gallery opened in Rome in 1990.
Witness of the New York's most incredible season for the art while she was working at the Annina Nosei Gallery in the 1980s, since the opening of the her own gallery Valentina Moncada focused her research on the relation with the tradition, always pointing towards the contemporary and its codes. These are the essential elements of her evolution as main ideas leading her in presenting to Rome's public some of the most important national and international protagonists of contemporary art world.