THEO BY RICHARD AVEDON

Académie de France à Rome Villa Medici

1st February - 1st march 2009

curated by Valentina moncada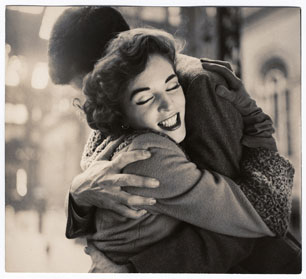 R. Avedon,
Theo with the photographer Ted Corner
, 1951
The project includes both an exhibition and a book that brings to light "unseen" photographs by Richard Avedon owned by the beautiful model Anne Theophane Graham (Theo). This private archive belongs today to the top model's son, architect Carlo Saraceni, and is constituted by a large quantity of original photographs, letters, vintage prints and contact sheets. The material, unknown to the Avedon Foundation has been authenticated by the same institute that defined it like a great discovery for the world of fashion and photography.

The gallerist Valentina Moncada wishes to bring to life in both the exhibition and in the book the early years of the cooperation between young Richard Avedon and the beautiful top model Theo, at the time of their first trip to Paris in 1949: the photographer would have taken her all over the world, from Parisian Haute Couture collections to the beaches of the Bahamas. Moreover the exhibition offers a glance to 50s' fashion, and documents in particular the astonishing affirmation of Christian Dior "new look" in the immediate after-war. The book will contain all unpublished documents, and will tell the story which sees the emerging fashion photographer Richard Avedon, engaged by Harper's Bazaar magazine, its unbiased and genial editor–in-chief, Carmel Snow, the visionary artist Alexey Brodovitch, responsible for the graphic design of the magazine, Theo's best friend Dorian Leigh, top model who became Avedon's Muse and icon of beauty of future decades and the relationship with Christian Dior, the most significant couturier.

The event is organized by AltaRoma with the collaboration of Musei Capitolini and Academie de France a Rome Villa Medici, sponsored by Roma Capitale.

Catalogue: Theo by Richard Avedon, curated by Valentina Moncada, Alta Roma 2009.