Carlo Gavazzeni Ricordi

Theatres of Invention in Rome

National Museum of Architecture in Moscow (MUAR) | Moscow

June 26th – September 2nd 2012

curated by Valentina Moncada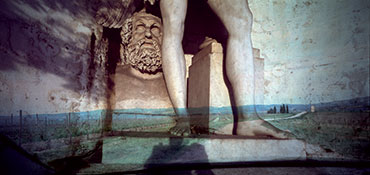 C. Gavazzeni Ricordi,
Roma (Sovrapposizioni, campagna)
, 2010/2011
Carlo Gavazzeni Ricordi's journey in Russia continues. After the Hermitage National
Museum in St. Petersburg the exhibition Theaters of Invention in Rome arrives at the
National Museum of Architecture in Moscow (MUAR), displayed in the Amfilada halls.
The exhibition is organized by the publishing house "Il Cigno GG Edizioni" and
curated by Valentina Moncada in collaboration with the Museum of Moscow.

The renowned museum in St. Petersburg is dedicated primarily to figurative arts. The
MUAR in Moscow is instead the most important location dedicated to architecture,
the area of research of Gavazzeni Ricordi, who superimposes architectural
photographs on top of each other to express his modern decadent lyricism. The
prestigious itinerary is the confirmation that the Milanese artist is one of the most
appreciated and esteemed Italian artists in Russia in 2012.
A selection of 29 large-scale color photographs is exhibited. They represent a
synthesis of the work done on the occasions of his Roman exhibitions, and in
particular for the occasion of the commission received from Pirelli Cultura to depict
the Theater of Villa Torlonia. The neoclassically inspired space houses sculptures by
the apprentices of Berthel Thorvaldsen. Gavazzeni captured the magic and essence
of this pleasant space in order to communicate the state of this theater to people
abroad before its grand restoration by Pirelli.

The exhibition is completed by a series of evocative views of the eternal city, subjects
that bring one back to classical visions of the Grand Tour but with an innovative
gaze thanks to double and triple exposures, and to the most recent artistic research
inspired by the splendor of Villa Medici.

Promoted by the Italian Institute of Culture in Moscow in association with the Pirelli Group and Valentina Moncada Gallery.


Catalogue: Carlo Gavazzeni Ricordi, Teatri d'Invenzione a Roma, curated by Valentina Moncada, edited by Il Cigno GG Edizioni, Rome 2012.