VIDEO EXCHANGE

Slovakia Video Art Festival

10th-26th September 2008

Curated by Lýdia Pribišová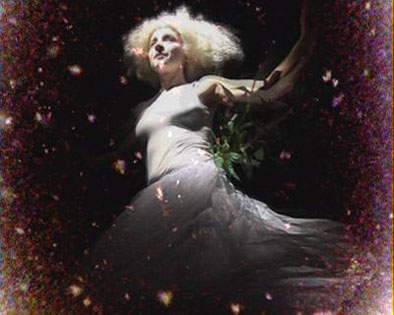 M. Gàberovà,
Forever, 2006
Pavlína Fichta Čierna, Anna Daučíková, Ľubomír Ďurček, Petra Feriancová, Mira Gáberová, Vladimír Havrilla, Anetta Mona Chisa, Andrea Chreňová, Monika Kováčová, Vladimír Kordoš, Patrik Kovačovský, Matúš Lányi, Ilona Németh, Peter Rónai, Milan Tittel, Lucia Tkáčová, Jana Želibská.

After the exhibition REC MODE organized by the Valentina Moncada Gallery in 2008, Video Exchange is the second edition of the Video Art Festival organized by the European Art Academies and presented also in Prague and in Bratislava. Video Exchange investigates on slovakian contemporary video art scene with a critic consideration on its beginning and on its recent past. The videos of the most important slovakian artists, all focused on some recurring themes of the last historical periods. The exhibition is divided in two sections, the first analizes the beginning of the new expressive tool of Video Art in Slovakia while the second is focused on the most recent events.

In the 1990s the slovakian video art was more interested in the themes of the body, on its fisical perception, but also on the research on sexual identities. This is the theme of Anna Daučíková work, among the most representative artists of the qeer art, but also the ambigous video of Jana Želibská, with an homoerotic sense. Peter Rónai investigates in the same period on his different identities, with such a critic and sarcastic perspective. Only at the end of the XX Century slovakian artistis put their attention on social and political themes, like the poweful control and influence of the mass media over the masses. Among these artists: Ilona Németh, Anetta Mona Chisa & Lucia Tkáčová and Milan Tittel. An important role is that of Pavlína Fichta Čierna, who worked with marginalized people and realized portraits as psycological documentaries. Mira Gáberová and Patrik Kovačovský is interested more on one's private story with an evident aestetic vision. Youngest artists as Andrea Chreňová, Monika Kováčová and Matúš Lányi take into consideration everyday life themes but treating them with ironic superiority.

The exhibition is organized by Valentina Moncada Gallery, in association with the Ministry of Slovack Culture, the Slovack Institute and the Slovakia Embassy in Rome.