Carlo Gavazzeni Ricordi
Fugitive Vision
June 9th – July 21st 2010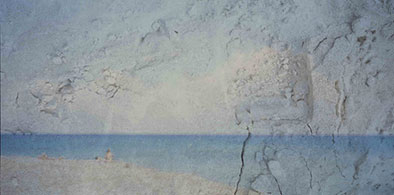 C. Gavazzeni Ricordi,
Visioni fuggitive V
, 2010
This is the second solo exhibition in Rome of the Italian artist Carlo Gavazzeni gathering a series of works inspired by sea landscapes shot in Italy after multiple visit in the south region of Puglia. The title arises from a Sergey Sergeevic Prokof'ev's work, in turn already inspired by a verse of his friend and symbolist poet Kostantin Dmitrevic Bal'mont. It is a musical reference linked to Gavazzeni's cultural knowledge but also to his personal experience during this journey of dissonant harmonies. The images express the loneliness of people and, at the same time, the communion with universe, releasing suggestions almost ephemeral.
The artist expresses also the mysterious disadvantage of the spirit searching for a possible harmony with the world. Carlo
Gavazzeni has been presented at the Valentina Moncada Gallery in occasion of his first solo exhibition Theaters of Invention (2007) and before, in 2006, in the group exhibition called "Site Specific", dedicated to the landscape in contemporary photography, along with Nan Goldin, Elger Esser and Symrin Gill.